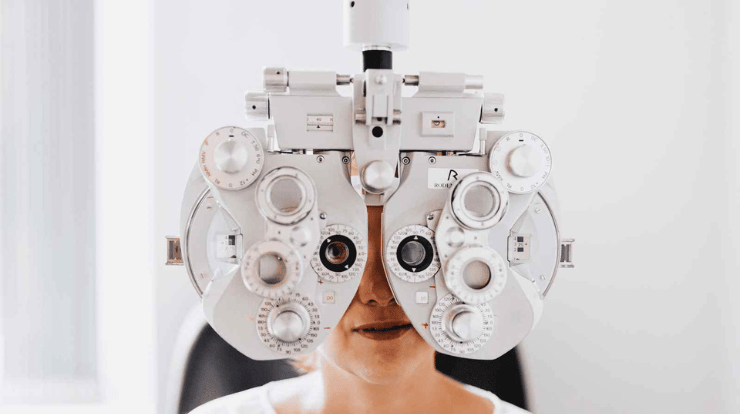 Studies show that a whopping 2.5 billion people across the globe lack access to eyecare treatment. As one of the essential contributors to a healthy lifestyle, your visual health should not be ignored. Based on the pandemic's pressure on the healthcare system and the rising costs of ophthalmology appointments, could it be time for the eyecare industry to enter an online realm?
In 2023 we book doctors' appointments with our smartphones, and consult a therapist over Zoom, so why should eye care be any different? As optical giants like Lensabl and Visibly release their newest online eye exams, an accessible future of vision-based healthcare is on the cards for everyone.
The Effects of the pandemic on the ophthalmology sector
As waiting times ramp up and high streets close down, heading to the opticians has become inaccessible for the vulnerable and the elderly. Like dentist practices and doctor's surgeries, getting an appointment alone has become a miracle.
Salen Churi describes, "You can't go down the street to your local optometrist and get an eye exam like you used to be able to. So when you consider how you can solve this problem, the only thing you come back with is that it's got to be a digital solution," says Salen Churi, founder of Trust Ventures.
As the newest digital healthcare solution on the market, online eye tests aim to improve vision care accessibility and encourage both the younger digitally native generation and the older generation to take care of their eyes.
What are online eye tests?
As a more affordable solution, online eye tests are a fraction of the price of high street opticians and can be completed from the comfort of your sofa. Taking just 20-30 minutes, the aim is to quickly diagnose potential red flags before suggesting a further follow-up or a link to browse an online collection of customized specs. 
After answering a series of questions, your eye test is recorded and sent to a consulting ophthalmologist who can diagnose unusual visual activity and refractive errors and even detect color blindness, all without seeing a patient in person.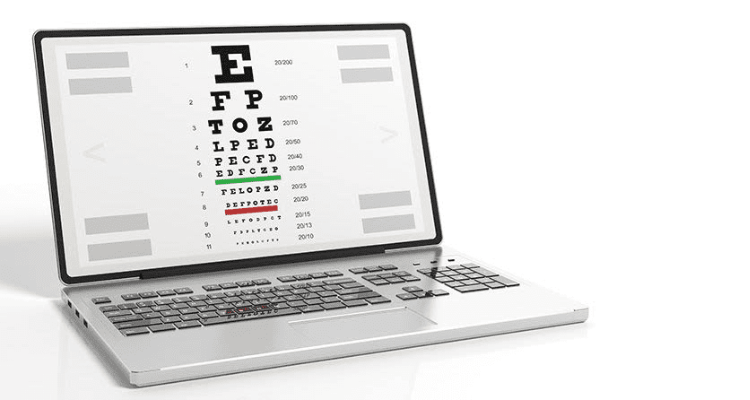 So, if you're looking for some quick answers about your visual health, or you're dying to buy yourself a new pair of specs, could an online eye exam be for you?
Are there any drawbacks?
While online eye exams are affordable and convenient, they are still a relatively new phenomenon in healthcare.
Like any virtual body exam, there are drawbacks to not being physically in the room with your practitioner. If you have a severe vision-related condition or are experiencing a sudden change in your visual abilities, it could be time to head to a physical ophthalmologist. However, if you're looking to move your yearly eye test online, here are some factors to consider before booking:
Inaccuracy

: While the initial eye exam online may be speedy, likely, it won't be entirely as accurate as the in-person alternative. For example, an online exam can only test the depth of your vision rather than the health of your eye.

Long review times

: Online eye tests are often over in 20-30 minutes; however, for the full results, some patients have to wait up to 24 hours for their record test to be checked and verified by an ophthalmologist. While this is a great way to ensure accuracy, an online test is not for you if you have an eye-health emergency.

Not suitable for serious eye conditions

: If you have eyes prone to glaucoma and macular degeneration, you may need physical exams such as an eye pressure test to monitor your progress. An online eye exam would struggle to diagnose potentially life-threatening conditions.
Which online eye exam is best for you?
Plenty of providers exist if you're interested in booking your first online eye exam. Depending on the intricacy of the exam you're looking for and the money you're willing to pay, here are a few of the best options on the market.
Visibly
As the globe's first online vision test, Visibly still stands as one of the best-reviewed providers of digital eye exams. 
With a motto to "connect customers with the vision care they need when they need it," Visibly offers an all-in-one vision screening straight from your smartphone. 
"Visibly is not a replacement for a comprehensive eye health examination… Our licensed ophthalmologists and optometrists use Visibly's online technology to evaluate a patient's visual acuity and a portion of the ocular health profile and issue a prescription for corrective eyewear, where clinically appropriate," The company states. 
While this option is pricier, it's available globally and is renowned for being incredibly accurate.
Lensabl
Lensabl is a one-stop shop for all things vision related. Offering low-cost online eye exams and free prescription renewal screenings, visit the website here to jump straight from your eye exam to picking the perfect pair of specs.
Lensabl's online eye exam only takes 15 minutes to complete and can be used to confirm your prescription. With a quick 24-hour turnaround, you'll be sifting through their extensive range of frames and lenses in no time. 
1-800-Contacts
If you're a contact lens wearer, 1-800-Contacts offers an online consultation and express exam for people who want to avoid traditional frames.
The exam is simple yet effective. After answering a series of eye-related questions, eligible candidates can upload pictures of their eyes, which a physician checks for signs of irritation or redness. After a board-certified ophthalmologist has reviewed the results, 1-800-Contacts quickly creates a customized contact lens prescription for you.